Apps & Devices > Switches & Devices
Switches & Devices
Network Monitoring, many organizations depend on it. At VitalSigns we aim at providing out of the box, cost effective insight in your Network. But not as a stand-alone Monitoring island, but something that is in the context of Platform Monitoring and Cloud Monitoring. By providing the Switches & Devices Monitoring, you now have one location, one interface to manage Monitoring and Alerting for all Platforms.
At VitalSigns we provide 2 types of Network Monitoring for Switches & Devices. You can see this as 'quick win' versus 'deep dive'.
Network Monitoring 'Ping' style. This is a quick win, the set-up is instant and allows you to see if your Switch, Router or Hub is 'up'. This Network Monitoring also allows you where you want to do deeper Network Monitoring over time. Which brings us to the second level of Device Monitoring.
Network Monitoring 'Deep Dive' style. This will allow you to monitor the following things on managed switches, hubs, and routers:
Packet loss, round trip average
SNMP status information
Bandwidth / traffic rate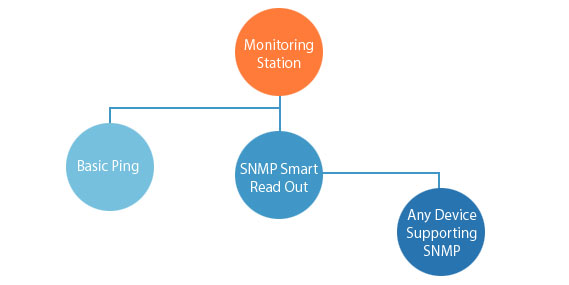 With the above model, we can virtually Monitor any device out there. We recognize different departments Monitor different IT levels. But at VitalSigns, we believe all should be Monitored with the same tool, creating stability and consolidating costs.
Partners