IBM Connections
IBM Connections is the new way of collaboration. Social and agile collaboration can bring enormous benefits in collaboration among colleagues both within and across organizations. More and more companies and institutions shift from using email to collaborate to IBM Connections, this platform becomes increasingly business critical.
VitalSigns helps IT ensure up time and reliability by independently testing all of IBM Connections' user-facing components. Of course, we also monitor across the IBM spectrum including WebSphere, Sametime, Domino, Traveler and other IBM platforms. But with our new IBM Connections module we not only extend our IBM monitoring strategy we also enter a new area; user adoption and usage reporting for management.
For IT
IT is primary concerned with ensuring that a given platform is functioning properly. VitalSigns acts like an IBM Connections' end user and initiates the common transactions that end users would perform, such as creating a blog or blog entry, adding an activity or bookmark, and searching across profiles. These tests are to make sure there is never an issue with the core functionality that could be perceived by the end user. Here is an overview of some of the tests we perform: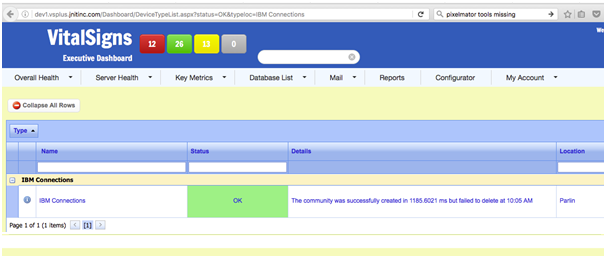 For Management
Management has a different focus area when it comes to IBM Connections. Rather than being mostly concerned about whether it is working, they are more concerned with the larger question– are my end users are using it or not? Are they adopting IBM Connections or are they avoiding it? Are their some success stories inside my company I can leverage to help foster further adoption? Which communities are active and which are stagnant? To provide insight into these types of questions, VitalSigns provides a set of data and reports to show how the business is leveraging the IBM Connections investment. Is adoption going OK? Are there departments or areas where usage is higher than others? VitalSigns provides critical insight into where additional adoption and change management efforts are required.
Some samples of data VitalSigns collects:
Activities

ACTIVITIES
ACTIVITIES_CREATED_YESTERDAY
ACTIVITIES_FOLLOWED_YESTERDAY

| | |
| --- | --- |
| USERS_FOLLOWING_ACTIVITY | |
| ACTIVITY_OWNERS | |

Bookmarks

| | |
| --- | --- |
| BOOKMARKS | |
| BOOKMARKS_CREATED_YESTERDAY | |
Files

| | |
| --- | --- |
| IN_TRASH | |
| UPDATED_LAST_MONTH | |
| UPDATED_LAST_WEEK | |
| UPDATED_LAST_DAY | |
| WITH_A_REVISION | |
| FILES_CREATED_YESTERDAY | |
| FILES_UPDATED_YESTERDAY | |
| FILES_DOWNLOADED_YESTERDAY | |
| FILES_REVISIONED_YESTERDAY | |

Forums

| | |
| --- | --- |
| FORUMS | |
| TOPICS | |
| REPLIES | |
| FORUMS_CREATED_YESTERDAY | |
| TOPICS_CREATED_YESTERDAY | |
| REPLIES_CREATED_YESTERDAY | |
Wikis

| | |
| --- | --- |
| WIKIS | |
| WIKIS_CREATED_YESTERDAY | |
| PAGES | |
| PAGES_CREATED_YESTERDAY | |
| REVISIONS | |
| REVISIONS_EDITED_YESTERDAY | |

Bogs

 
Partners