IBM Domino
IBM Domino servers are the backbone of the collaboration stack for many organizations.  IBM Notes provides business collaboration functionality, including email, calendars, to-do lists, contact management, discussion forums, file sharing, , instant messaging, and user directories. IBM Notes also provides access to and integration with other IBM Domino applications and databases.
VitalSigns is simply the best solution for monitoring IBM Domino servers. We use the native Notes client for all our testing so nothing is required to be installed on the Domino servers.

Monitor Domino Server tasks:
Have VitalSigns monitor servers tasks for responsiveness
Have VitalSigns automatically start a task if the task is not responding
Have VitalSigns automatically restart the server during business hours or after business hours if the task fails to load
Have VitalSigns automatically stop a task if it is reported as running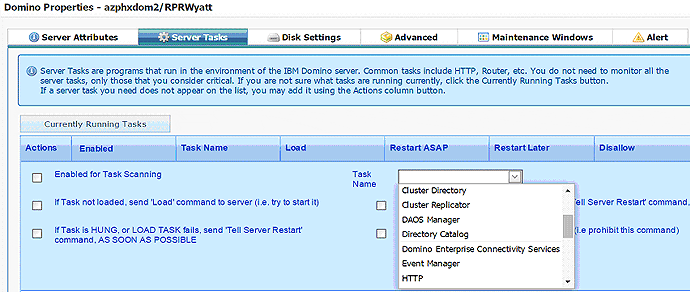 Monitor Notes Databases for:
Document Count
Database Size
Replication
Refresh All Views
Database Response Time
Database Disappearance
Receive alerts for data disappearance, database size, response time, and too many documents
Database list page provides an overview of monitored databases in addition to an all databases view, all template view, and problem databases view
The Mail file view provides a variety of mail file views, which include alphabetical order, biggest mail files, mail file templates, largest percent of quota, and overall mail statistics.

Domino Clusters:
Monitor Potential Cluster problems
Monitor Document Count
Monitor Database Size
Create and monitor a Difference Threshold (the percentage difference in document count between two replicas on different servers)
Receive alerts for cluster replications and missing replicas
The Cluster health page provides a friendly user interface of the cluster replicator health as well as the cluster database health

Monitor Disk Space:
Monitor all disks on a server by percentage or gigabytes
Monitor selected disks on a server by percentage or gigabytes
Receive alerts when the disk space approaches or exceeds the specified warning threshold
The Disk Health page provides an overview for each disk on each server regarding the total disk size, the amount of space free in gigabytes and percentage, as well as the specified threshold for the disk

Monitor Notes Mail Probes:
Monitor the delivery time between a source server and a target server using a designated target database.
The NotesMail Probes detail page provides current status and response time information as well as a performance graph that details all response times in the last 23 hours.
Receive alerts for failed or slow target delivery times.
Partners